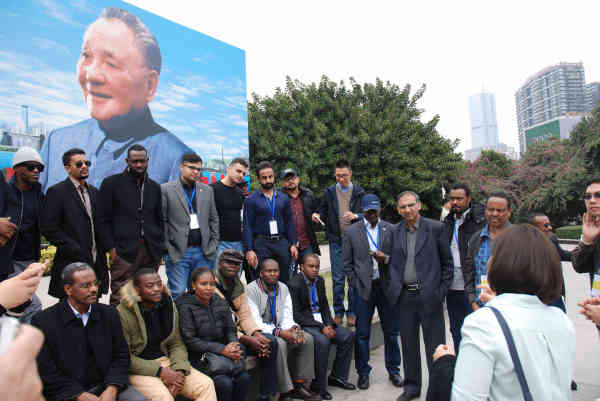 ("Seeking truth from facts". ISSCAD students in front of Deng's portrait)
Though China faces many challenges in the journey of development, its overall achievements are striking since the reform and opening-up. How can we explain this success? Some say this is a result of foreign direct investment (FDI), but in terms of per capita absorption of foreign investment, Eastern European countries are far ahead of China. Some say that it's because labor is cheap in China, but there are many developing countries where labor is much cheaper. Some say it's due to the role of a strong government, but there are many strong governments in the countries of Asia, Africa, and Latin America as well as in the Arabic world, but very few have had the success China has. If none of these factors can simply explain China's success, then we need to look deeper for answers.
It is widely known that Shenzhen is a prime driving example of China's reform and opening-up process, and Comrade Deng Xiaoping was the principal decision-maker of the establishment of special economic zones. Therefore, Shenzhen must be studied, visited and learned from to make better explanations and closer conclusions about China's economic miracle.
At the end of the 2017 Fall Semester, as part of the Institute of South-South Cooperation and Development (ISSCAD) Program, a field trip to Shenzhen was organized. Professor Fu Jun, the academic dean at ISSCAD, along with a group of students who are governments officials came from developing countries, visited and analyzed capital-intensive Industries, intellectual-intensive Industries, labor-intensive Industries and traditional agriculture in Shenzhen and Huizhou. The purpose of the trip was for ISSCAD students to combine the theoretical framework they learned from the semester and their observations, and confirm the availability in reality.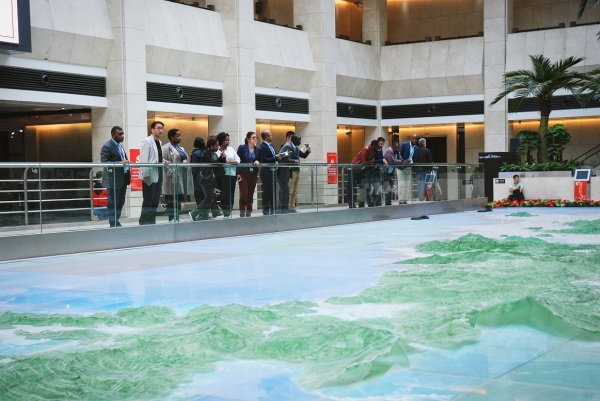 (ISSCAD students Visiting Shenzhen Museum)

Visiting Shenzhen Museum: The Trace through Stormy and Tough Probe
Reverse Engineering is a methodology Professor Fu Jun has been stressed for several times in this field trip. Looking far from the seaside broad walk, a stream of cars drove onto Shenzhen Bay Bridge and brought passengers from Shenzhen Port to Hong Kong, displaying the unique geographical advantage to its audience. As new marks sprung up one by one in this city, Shun Hing Square, the once dearest and most well-known building in China, was no longer the landmark of Shenzhen. Seeing this, a question arises: how does Shenzhen, once a small fishing village, become a modern international city in forty years?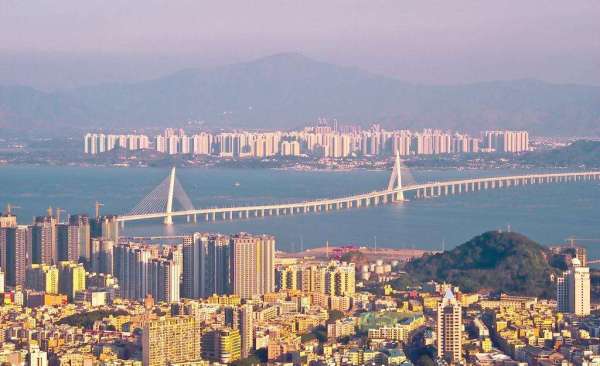 (Shenzhen Bay Bridge that links Shenzhen and Hong Kong)
Shenzhen museum introduced to its audience the history of this immigration city. The exhibition started from Deng Xiaoping's words "The central government is not capable to provide financial support. Still, the government would grant preferential policies to allow you finding a trail through trials and errors," the first breakthrough – the start of Shekou Exporting Processing Zone, the emancipation of old mindset brought by Deng's South Tour Speeches and the building of Shenzhen International Trade Center with its "Shenzhen Speed" of completing one storey in three days, sending the vitality and the gene of Reform and Opening Up to ISSCAD students and developing countries longing for economy development.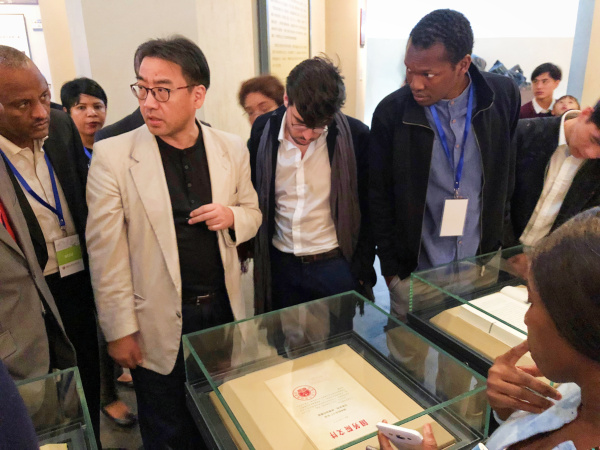 (Prof. Fu explaining the history of Shenzhen development)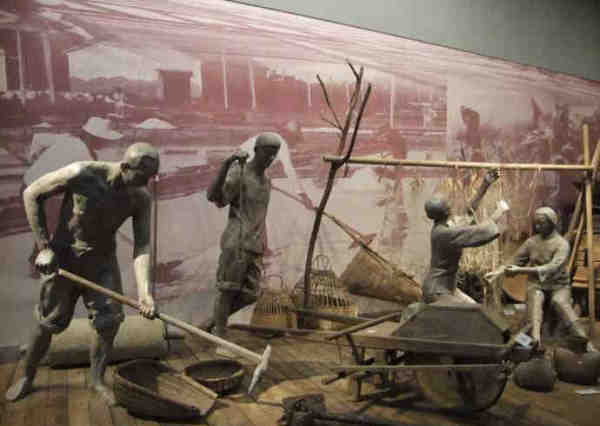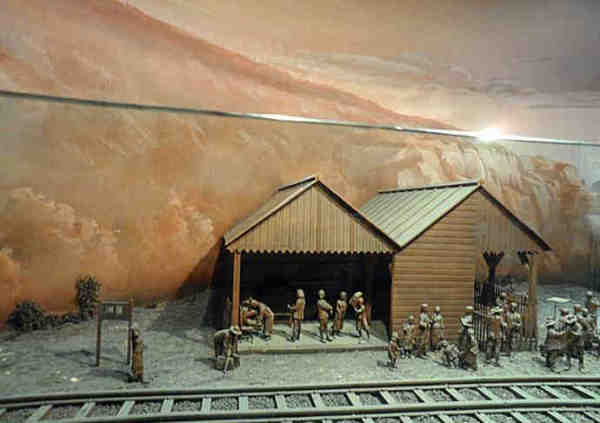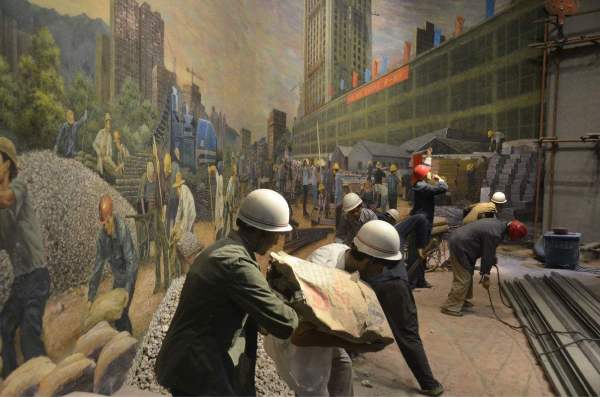 Close Observation of Reform and Opening Up: Development of Capital-intensive Industries, Intellectual-intensive Industries, Labor-intensive Industries and Traditional Agriculture

As the frontier of Reform and Opening-Up, Shenzhen has witnessed the booming of world-class Chinese Enterprises, including internet giants and corporations received global prestige by their high-tech and eco-friendly culture. In a showroom of BYD, the pioneer of new energy technology and excellent ODM and EMS supplier of IT industry, a foreign employee introduced BYD's self-dependent innovation to the students. Students from Ethiopia carefully listened to the introduction and took notes. While appreciating the advanced technology, students from Aman, Pakistan, and Turkmenistan kept asking the narrator the availability to promote these technologies: Does the unmanned Skyrail applicable to African cities? Could BYD's technology of clean energy storage be promoted in the Middle East countries?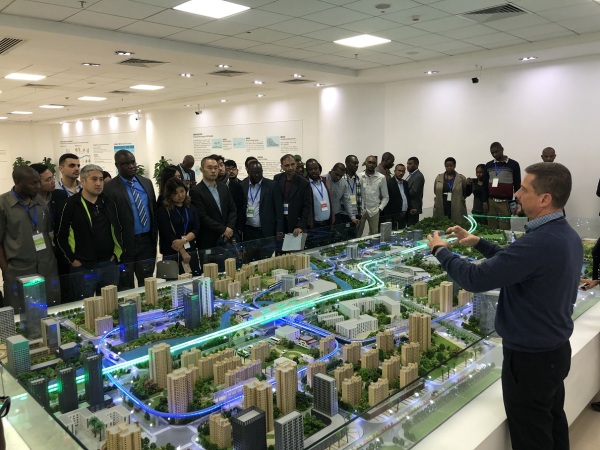 (ISSCAD students at a BYD showroom)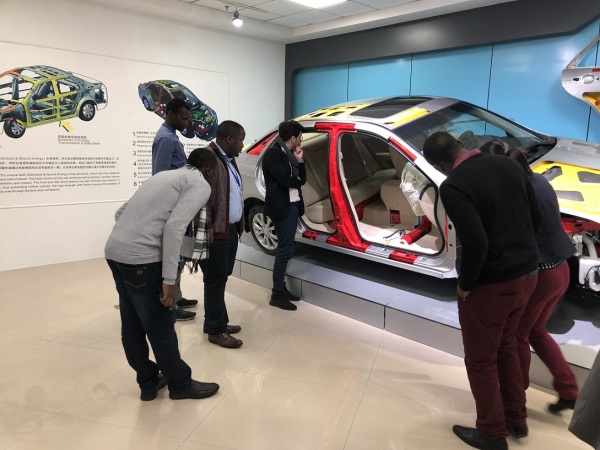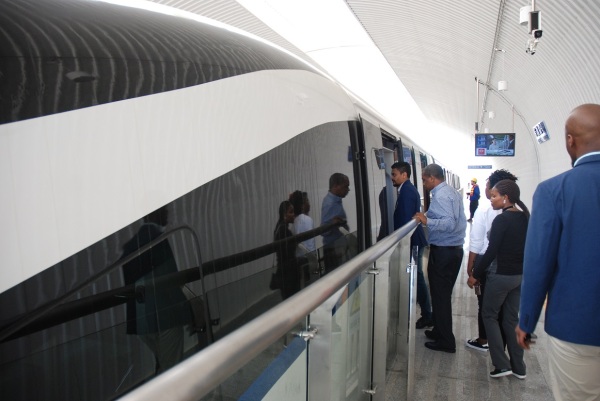 In the showroom in Tencent's Shenzhen headquarters, ISSCAD students, who have already got used to WeChat, took photos with their beloved mascot-the penguin. They experienced the Tencent-designed somatosensory dance game and hear the prediction of digital frontier in 2018 from experts working in Tencent Research Institute: the future generation would cooperate with AI in-depth, Smart Voice would become a new access to internet and become means of human-computer interaction, and companies, including Google, Tencent, Alibaba, and Microsoft, would lead more resource and talents into the development and construction of Smart City; development of digital cash in anational scale lies ahead, AR continues to integrate into everyday life, onlineorders and offline sales would gradually converge … Prospective thoughts of the internet giant allows ISSCAD students to see the present and future of China, as well as the driving force that encourages China to the future.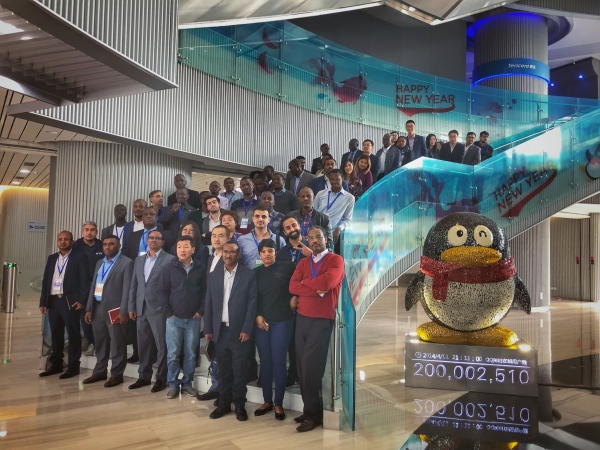 (ISSCAD students at Tencent's Shenzhen headquarters)

In Huawei industrial park, the bus drove through "Chongzhi Avenue" and "Madame Curie Avenue" and then turned to "Longping Road", all named by well-known scientists in China and other countries, which filled the place with an atmosphere of Science spirit. The words "If you have been waiting for more than 10 minutes, please call ****." written on the ground of bus station silently impressed visitors with an efficiency-focused Huawei. The showroom introduced 10 major technology developing fields: with urban neuro-sensation,visual integrated control center, facial recognition, trajectory tracking, smart government administrating and public cloud outside newsroom, Huawei changed the old Chinese image of stereotypical low-end, labor-intensive-industry-dependent developing country, reminding ISSCAD students from developing countries that a nation without the forefront role in overall economic situation would still stand on the cutting-edge of several technology fields.

Huawei's talent incubator – namely, "Nurturing elites with elites" – generated vitality for its continuous development. The mechanism also provides a new perspective and in-depth thinking for ISSCAD students on talent incubation in their national enterprises.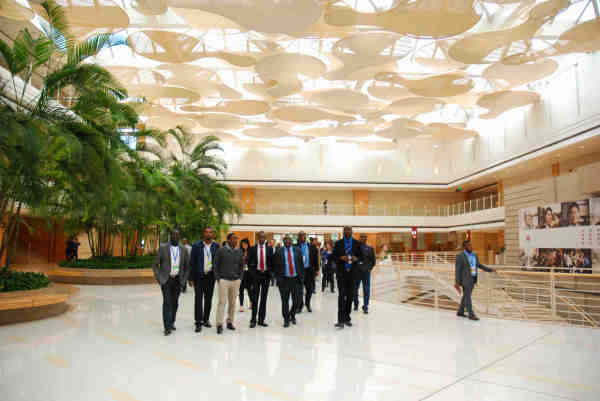 (ISSCAD student at Huawei Industrial Park)

In Vanke's Shenzhen headquarters, ISSCAD students understood the green and technology element incorporated in the company's concept with its shiny flat skyscrapers, huge amphitheaters allowing nature voice being passed to the last row without microphone and ceilings with fish swimming on the surface. Executives of Vanke shared Vanke's green strategy and its efforts in the household industrialization. However, for the students, the core value of buildings is different in war-torn countries: "How to fight against terrorism through designing architecture?" The Chinese experience of development should be learned with the diverse circumstances to each student; similarly, when operating aboard, Chinese enterprises should adapt themselves to local circumstances.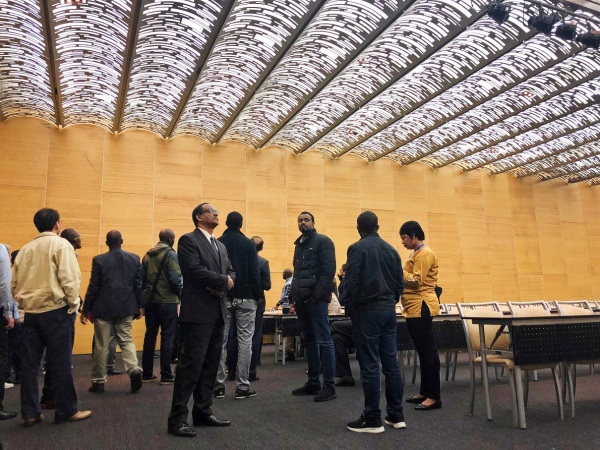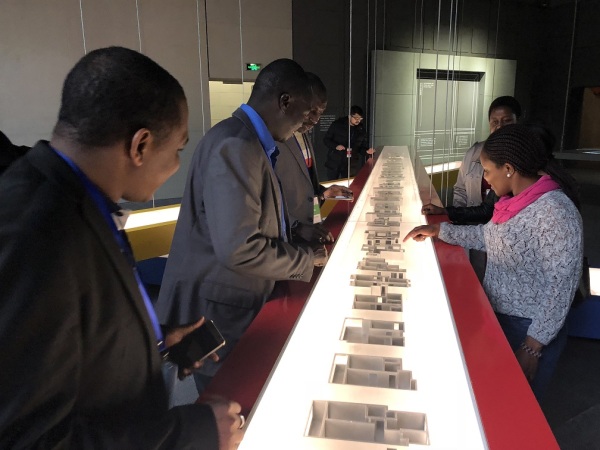 (ISSCAD students visiting Vanke)

The ISSCAD students then visited Beijing Genomics Institute (Shenzhen) and its gene museum. With great ambition, BGI manages to develop and industrialize gene technology through intelligent, networked and financial works and makes the technology available in everyday life, especially in fields including medical care. Could gene-technology help to improve the local condition in developing countries where medical care and sanitation are still relatively backward? This is a question arises from the students.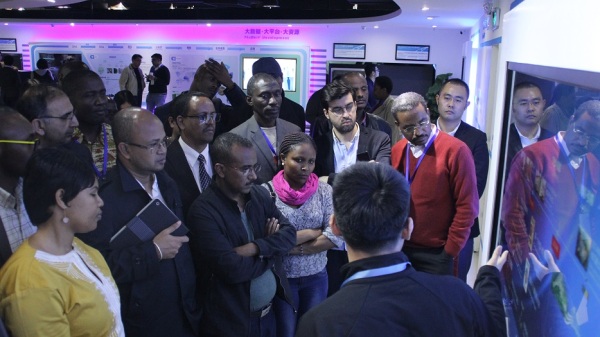 (ISSCAD students at BGI)

Apart from those capital- and intellectual-intensive industries, labor-intensive industries, the major contributors to Chinese economy takeoff, are of great importance for other developing countries to inspire them the road from low-income economies to middle-economy ones.Therefore, the trip stopped at Huizhou in Guangdong Province and brought students to a toy manufacturer, Weida Toy Casting (Huidong) Company Limited.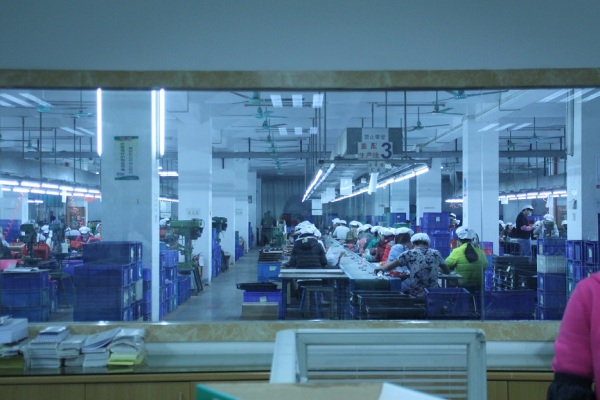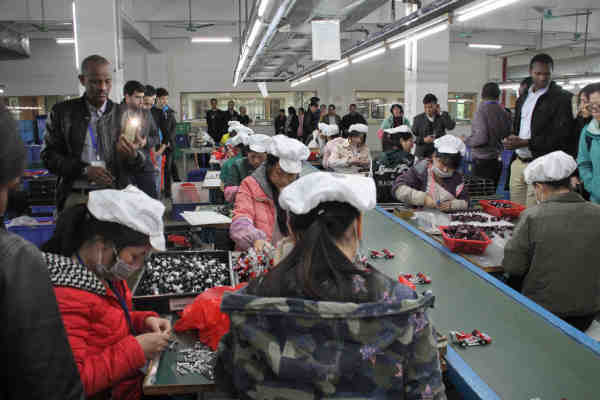 Although many of labor-intensive companies in Huizhou faces fewer orders, or even have to move to other southeastern countries, traditional labor-intensive companies like Weida is still operating here. In the company workshop, workers were assembling toy cars and motorcycles with proficiency, and workers responsible for bonding the toy wore protective masks. With their own masks, ISSCAD students sat beside workers and talked with them. "How much do you earn each day? Do you have a work insurance?" By asking the workers their working condition, the students wondered if their home countries have a comparative advantage on labor-intensive industries.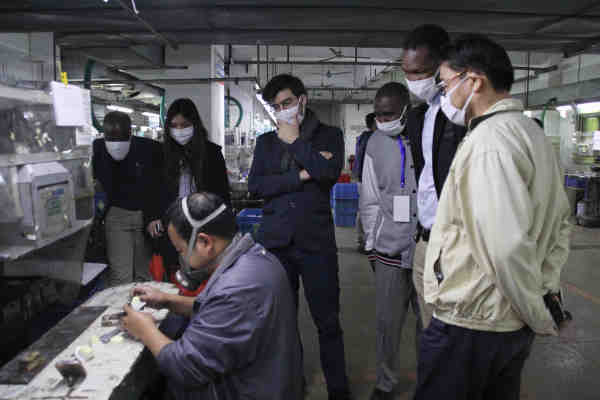 (Prof. Fu and ISSCAD students communicating with local workers)

For ISSCAD students-many comes from low-income economies, and agriculture is the major industry. This trip brings students to Tieyong in Huidong County, a demonstration zone for premium heavy-yield potatoes. Standing in the field, the official introduced the county's business model to students: farmers plow and sow the land on their own, and the administration office is responsible for purchasing the product and some public affairs including overall irrigation. In Tieyong, farmers grow one potatoes and two crops a year. The unique geographical condition in Huidong provided a preferential climate for corps and wide market: most of the corps are sold to the hinterland and 30% goes to Hong Kong. Despite the different climate and geographical condition, the agricultural model could be a reference to many Asian, African and Latin American countries.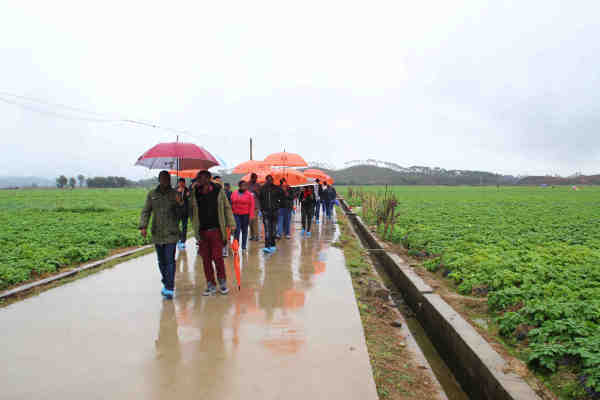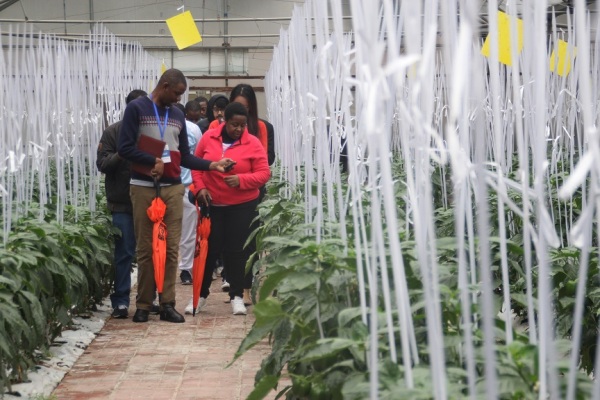 Research the Overall Economy Situation in China and Explore the Secret of SpecialEconomy Zone

The institute attached great importance on thinking and observing during the teaching process. In Peking University HSBC Business School, Professor Hai Wen, co-founder of National School of Development of Peking University and Head of HSBC Business School, give ISSCAD students a lecture on the topic Chinese Economy in the New Era: Current Economy Situation and Future. China's economic growth rate is declining, but now economic data suggest that the economy has been slowly recovering. How does China take off its economy? What major challenges will China face in the future? With these data, Professor Hai analyzed the development of Chinese economy and the major engines for Chinese economy takeoff in the new era.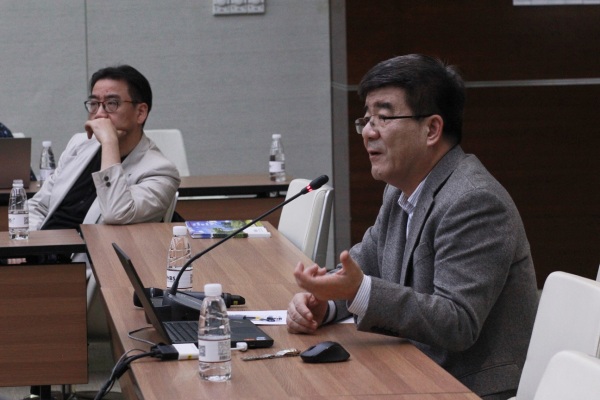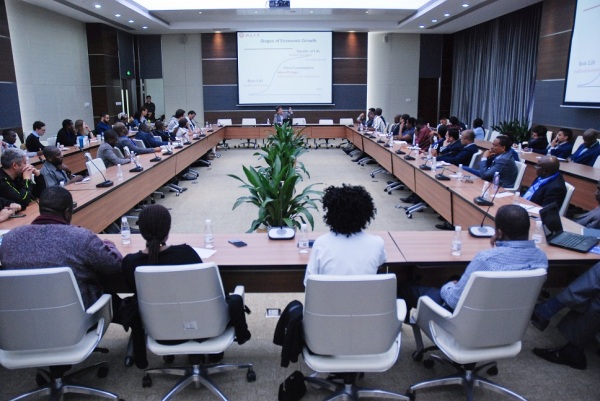 (Prof. Hai Wen giving a lecture at HSBC)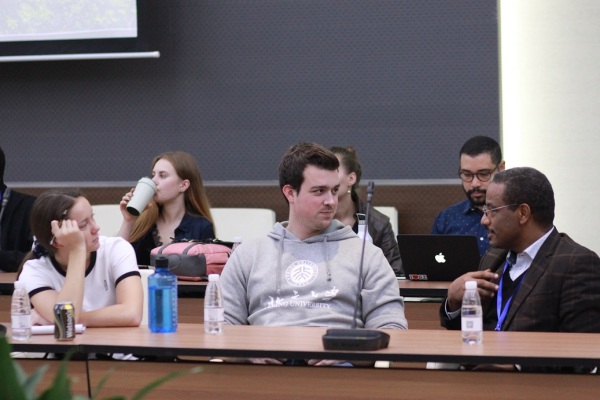 (ISSCAD students communicating with HSBC students)

Wu Sikang, Director of Development Research Center of Shenzhen Municipal People's Government and Policy Research Office of the Shenzhen Municipal Government, gives a lecture on the characteristics and achievements of technology innovation in Shenzhen. At the start of Reform and Opening-Up, the enlisted special economy zones include not only Shenzhen but also cities nearby, including Zhuhai and Shantou. However, Shenzhen enjoys an economic boom and becomes the fastest-developed special economic zone. In Wu's view, think tanks in Shenzhen contribute a lot to this situation; every new policy in Shenzhen Municipal Government has been rigorously researched and designed. Shenzhen has been lacking financial and resources support. Yet, with its pioneering spirit, the city introduced large sums of foreign investment and therefore brought in job opportunities, tax income, cutting-edge technology, management experience and international market. Starting as a small fishing village with only 30,000 residents, Shenzhen now holds 22 million population, and accumulated premium innovation resource for the nature of Reform and Opening-Up. During the communication with Mr. Wu, students from Zambia, Algeria, and other developing countries introduced and compared the situation of a special economic zone in their own countries and learned from Shenzhen's experience for their own economic development.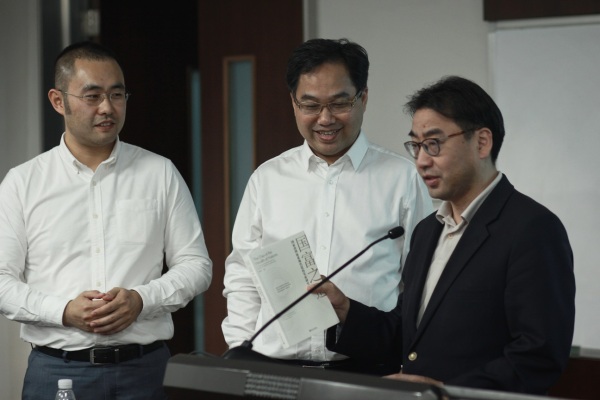 (Prof. Fu giving his book to Mr. Wu)

Despite the introduction and analyzation made by Professor Fu Jun, the most important part of this field trip is the reflection of students. Why does Shenzhen mode become successful? How does government and enterprise behave during the development? Does special economy zones applicable to low-income economies? During the observation, students think and reflect on these issues, trying to find their own answers. In his summarizing speech, Professor Fu Jun reminded ISSCAD students that developing countries should notice that while they're learning Chinese experience of Reform and Opening-Up, the unique pollical, economic and cultural background should be considered. As the diverse background situation is continuous and dynamic, "Shenzhen mode" cannot be simply copied and used in different countries. Students should combine the theoretical framework and their observations and confirm the availability in reality.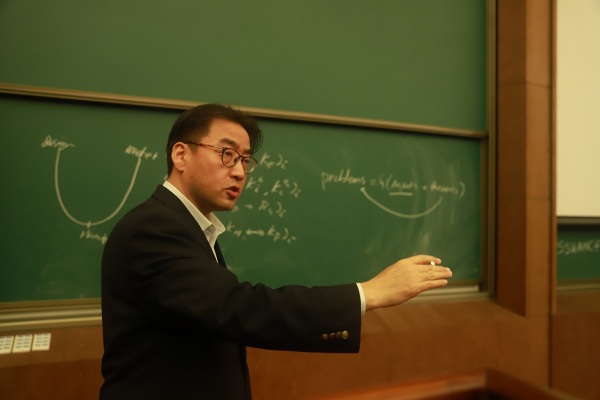 (Prof. Fu reviewing the trip)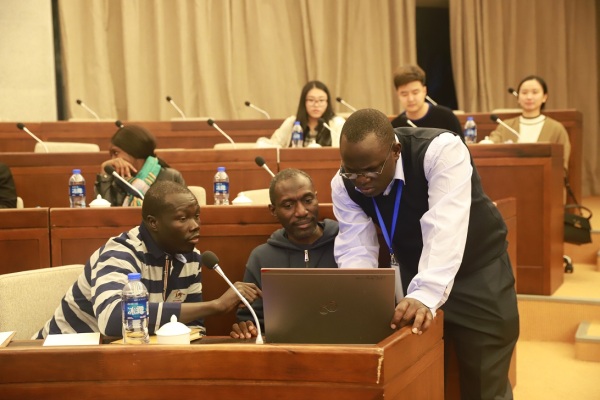 (Group discussion and preparation for presentations)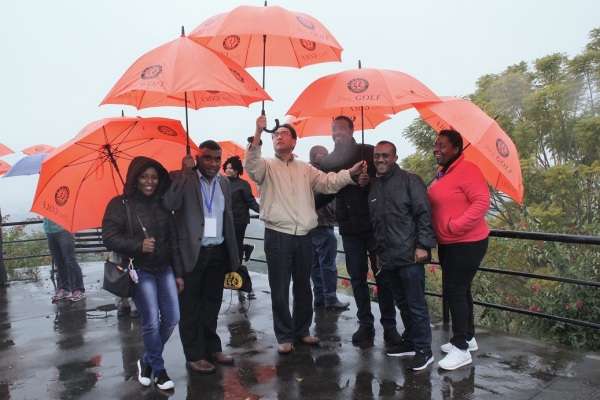 (Prof. Fu and ISSCAD students)