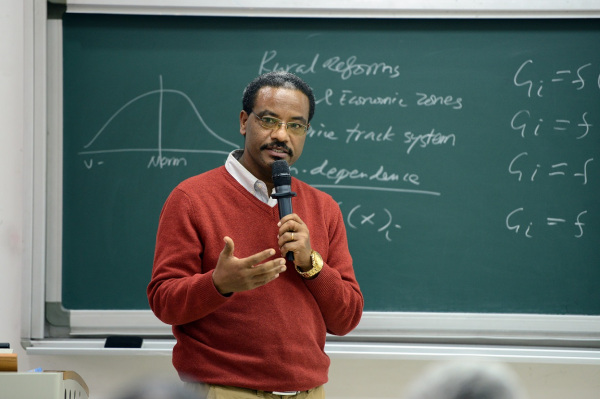 Dilamo Otore, Doctoral Candidate at the Institute of South-South Cooperation and Development, Peking University, and Former Head of Trade Bureau of Addis Ababa, Ethiopia.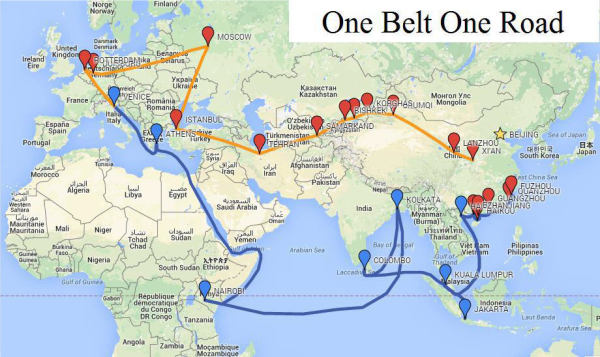 Source: School of International Study
The new Belt and Road Initiative proposed by Chinese President XI Jinping could promote bilateral relationship and advance Ethiopia's economic development and furthermore that of other African nations. The initiative offers open doors for taking part Ethiopia to mobilize domestic resources and speed up its economic and political development. Because of Ethio-China strong bilateral relationship, Ethiopia has experienced issues related to domestic resource mobilization and infrastructures development, like Railways, Road, Telecommunication, Power Generation, which are needed to connect people, expand the market and create collaboration among development partners, like Ethiopia and China. It can be taken as an opportunity to materialize country's Growth and Transformation Plan goals. So, the initiative gives conceivable outcomes to Ethiopia to promote infrastructure connectivity and advancement of economic development with domestic resources mobilization.


According to Chinese Office of the Leading Group for the Belt and Road Initiative, the Belt and Road Initiative is a Chinese proposal whose aim is to promote peaceful cooperation and common development around the world. Cooperation under the Belt and Road framework is something in which all countries, big or small, rich or poor, can participate on an equal footing. This cooperation is public, transparent, and open, and brings positive and synergetic energy to world peace and development. From this, we can understand that the scope of the cooperation is multilateral and multidimensional by its context and requires commitment and engagement of all development partners across the globe. The initiative promotes mutual benefits not only between Ethiopia and China but also it enhances all nations in Africa. The development and implementation of Belt and Road initiative create a diverse range of socioeconomic transformation in Ethiopia.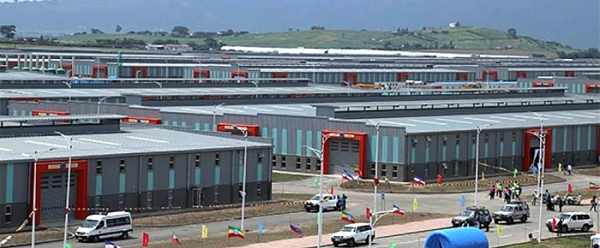 Hawassa Industrial Park (Source: Ethiopia Industrial Corporation)
Ethio-China Relationship: A Historical Relationship
China and Ethiopia built up diplomatic relations in December 1970. The two countries are recipients of antiquated human civilization and fifty years may essentially be a short stage in both country's' long histories, yet the profitable accomplishments those years have given China Ethiopia relations is something two countries can be happy with and appreciate. Relations improved for a short period after the Ethiopian revolution of 1974, yet twisted up clearly worried as the Ethiopian military junta grew consistently close ties with the Soviet Union.
After the Ethiopian People's Revolutionary Democratic Front took control in 1991, meaning current government, relations have consistently improved, with expanding discretionary contacts and creating trade and Chinese enthusiasm for the Ethiopian economy. Starting late, the relations between the two countries keep up a solid and constant improvement propensity with common trusts and visits at high levels and advancing the economic, political, and social collaboration and inventive joint effort between two countries. As a result of a healthy relationship between two countries, in the last fifteen years, a number of Chinese companies started investing in Ethiopia.
The "Belt and Road" Strategy: Promote Developmental Cooperation
In today's world, economic globalization and regional integration have become an issue to create peaceful and sustainable development, while scientific and technological advancements have incredibly enhanced the effectiveness of governance system and everyday life. The current global world requires both bilateral and multilateral developmental cooperation strategy to deal with practical global economic governance challenges and sustainable development demands across the world. Along these lines, conventional strategies and customary methodologies for development cooperation may not work to bring the fundamental economic transformation in the current dynamic global world. Therefore, 21st century requires farsighted thinking to put innovative solutions for cutting-edge development and governance dynamisms. In this regard, Chines President Xi talked about the Belt and Road Initiative. He put forward five major and fundamental areas in Belt and Road Initiative: Accelerate Policy Coordination, Facility Connectivity, Promote Unimpeded Trade, Enhance Financial Integration and Enhance People to People Bond.

From Ethiopia perspective, the Belt and Road Initiative create opportunity and pave the way for:

1. Promoting Connectivity of Infrastructure and Facilities;
The convergence of interests is quite clear between Ethiopia, which seeks to attract FDI in order to accelerate the development of its manufacturing capacities, in particular through industrial parks or zones, and China, which seeks to export its industrial products including Special Economic Zones, its most labor-intensive products and to promote connectivity between China and Africa. With the Belt and Road initiative, various routes for exchanging merchandise to East Africa would open up. The Belt and Road initiative benefits two countries in line with infrastructure connectivity, as of now Ethiopia is one of Africa's quickest developing economies which demands high infrastructure connectivity and facilities.
2. Enhancing Economic and Trade Cooperation;
Ethiopia has maintained close economic and trade ties with China, which has greatly boosted the domestic economy and industrial development. Ethiopia attaches importance to furthering such ties to bring economic transformation in its economy and need to build a more sustainable trade system. Furthermore, the important bilateral trade and investment agreements signed by both governments are significantly useful to further deepen Ethio-China bilateral cooperation. Last experiences show that China is ready to expand cooperation with Ethiopia and other African countries and make such cooperation more fruitful so as to bring benefits to the people of both sides.
3. Developing Production Capacity and Investment Cooperation;
Ethiopia has developed industrial parks to make industrial development age confine and to attract foreign direct investment. The industrial parks have been adding to the country's economic development, as they become obviously one of the attraction areas to attract more foreign direct investment. Meanwhile, some China's Provinces, like Eastern China's Shandong Province, is set up to upgrade its cooperation with Ethiopia on production capacity and areas of textile, agriculture, machinery and infrastructure under the framework of Belt and Road Initiative. Ethiopian Prime Minister Haile Mariam Dessalegn likewise noticed that Ethiopia, taking advantage of the momentum from the Johannesburg Summit of the Forum on China-Africa Cooperation, would reinforce production capacity with Shandong, particularly in areas of the garment, agriculture, machinery and infrastructure under the framework of the Belt and Road Initiative. This encourages new development focuses on bilateral economic cooperation between two countries.
4. Promoting Educational Partnership
In recent years, the Ethiopian government has been putting its attention vigorously in education sector quality improvement programs; and that can be considered as the right approach since education is basic in safeguarding sustainable development through upgrading the human resource development. The Belt and Road Initiative offers many educational opportunities to extend existing cooperation in the education system. As a part of the Belt and Road initiative, Ethiopia will capitalize this opportunity by sending officials and professional for the Chinese scholarship and then it makes space to fill the gap of human resource labor market demand step by step. Ethiopian students in the ISSCAD program can be taken as an example.
5. Promote Cultural Exchanges
Cultural cooperation is also very important to promote mutual understanding among the nations through the advancement of intercultural communication that is fundamental to understand and respect each other. The belt and road initiative helps to bond and tie different societies across the world and to see each other importance how one can preserve his or her way of life through respecting other peoples' culture. To materialize this reality, the Chinese government established Confucius Institute in Ethiopia. The point is to advance the Ethio-China cultural cooperation and to enhance intercultural connectivity between two nations; in that, the two nations will promote mutual cooperation and relationship.
The Belt and Road Initiative could promote Ethiopia's economic development and furthermore that of other African nations. The initiative offers open doors for taking part Ethiopia to mobilize domestic resources and speed up its economic and political development. Therefore, the Belt and Road Initiative makes a win-win situation for both countries. The hidden esteems and standards incorporate apathy in shared advantages. With a youthful populace nation, Ethiopia is putting money on industrial parks to make occupations and deliver a steady and flourishing economy. Chinese companies are currently significant investors in these parks and country as a whole. Many Chinese companies are the greatest players and have been engaged with a large portion of projects from building industrial parks, roads, railways and to set up to leather processing plants in line with the initiative.
Because of a solid connection between two countries, they have accomplished positive outcomes in overall economic and trades cooperation in such areas as politics, economy, trade and investment, cultural exchange, education and technology transfer and in addition in international and regional issues. They have ventured up their endeavors to investigate better approaches to extend respective relations and grow commonly gainful cooperation and the two-sided relations have entered into a new phase.
By Dilamo Otore
(The original article has been abridged.)