On November 30, 2017, the Ethiopian delegation headed by Demeke Mekonnen, Deputy Prime Minister and deputy Chairman of Ethiopian People's Revolutionary Democratic Front, came to Langrun Garden at Peking University to visit the Institute of South-South Cooperation and Development (ISSCAD).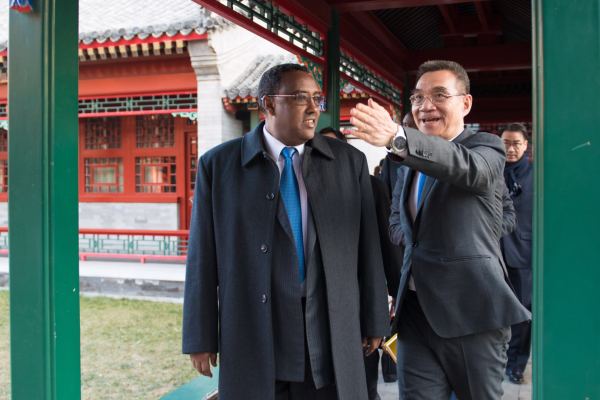 At 4 o'clock in the afternoon, the delegation, ISSCAD faculty, and students sat together in Zhifuxuan and had a symposium presided by Prof. Fu Jun, the Academic Dean of ISSCAD.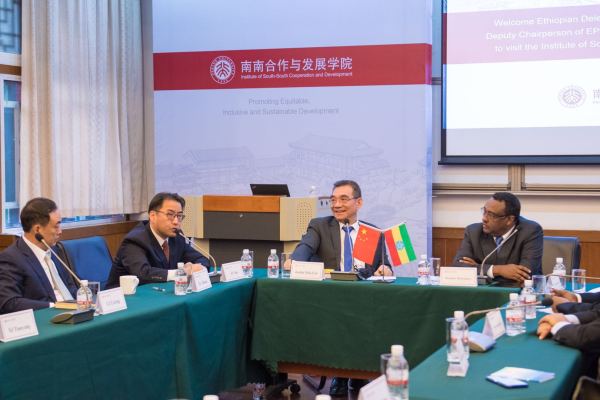 After an introduction video about the establishment of ISSCAD and its educational achievements in the past year, Mr. Lin Yifu, Dean of ISSCAD, gave a speech of welcome. He said, "Ethiopia is one of my favorite African countries, and I went there to confer with the local government about Ethiopia's development the first week after taking the office of Senior Vice President of the World Bank in 2008. After World War II, the international society showed little confidence in East Asia's economic growth. However, 'poverty is not predestined', as has been proved by the Four Asian Tigers' take-off, China's economic miracles and the revival of the Japanese economy. After years of devotion to economic development, Ethiopia is ridding itself of poverty and becoming a model for other African countries on their way from poverty to prosperity."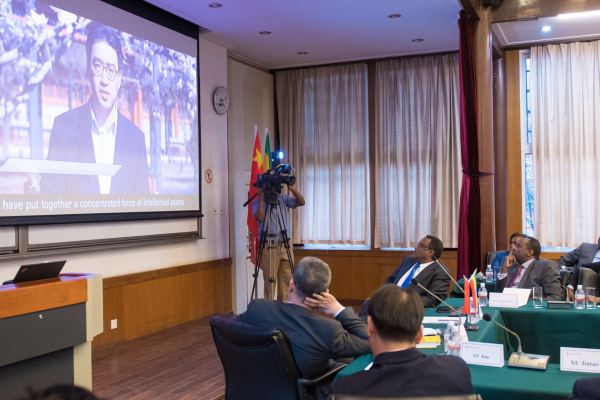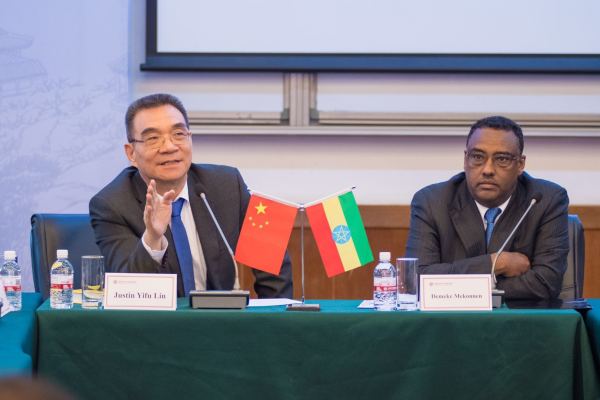 "In the last decades, many developing economies copied developed ones yet achieved little success. That is because of the same economic theory effects different outcomes in different conditions, so 'prescriptions' by mainstream economics do not help every time. However, Global South at similar stages of development shares common opportunities and challenges. ISSCAD is a platform for mutual study and sharing well-tested theories and experience among Global South. I hope Mr. Demeke will supportISSCAD's development and provide chances for students to learn from Ethiopia."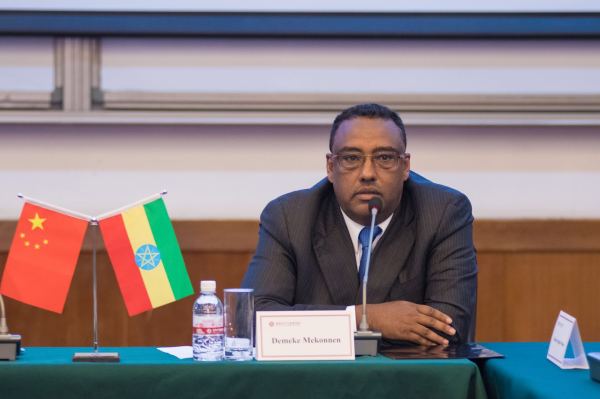 In Mr. Demeke's address, he first thanked Mr. Lin for his distinguished contribution to Ethiopian economy and his acknowledgment of its achievements. Then he expressed his happiness to visit the campus and to communicate with ISSCAD students from Global South and exchange ideas about Ethiopia's development. He said that Ethiopia had committed itself to economic growth and transforming its economy into a sustainable one for over ten years and that it would never cease to fight poverty. He hoped that Ethiopian students could learn more about China's experience in reform for future application in Ethiopia's development, just as they did in the past to get to their present status.


Then a student representative Leul Gebru reported to the delegation over his gains in the study. He mentioned that President Xi Jinping put forward at the UN as a solid ground for Global South to realize the dream of "common prosperity". In China, they could learn from excellent teachers from around the world and improve their leadership through interactions; besides, during on-the-spot learning and field trips to Chinese enterprises, they got to know more about typical Chinese modes of development. He said ISSCAD students would never indiscriminately imitate China but find out a path suitable for Ethiopia. In conclusion, on behalf of all ISSCAD students, Leul extended his gratitude for the Chinese government and PKU as well as ISSCAD and again welcomed the Ethiopian delegation to Peking University.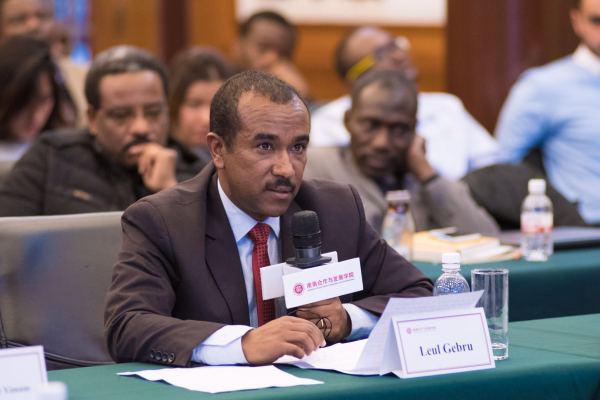 At the symposium, Mr.Demeke and other delegates answered questions from ISSCAD students concerning the peace process and development of South Sudan and other issues. In the end, Prof.Fu Jun concluded with his wishes for a prosperous future shared by Global South.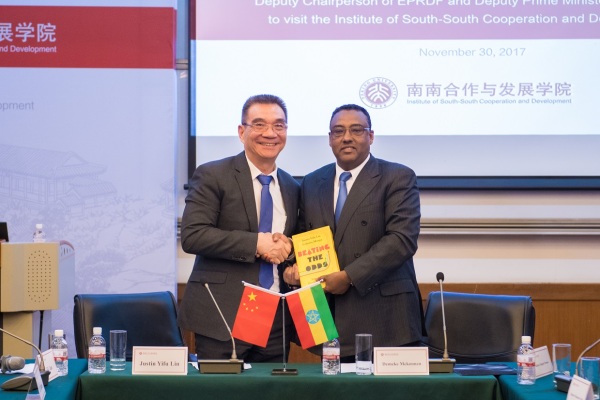 After the symposium, Mr.Lin presented Mr. Demeke a copy of his English writing and again hoped Ethiopia could summarize its experience to help other African countries shed poverty for a prosperous future.
Editor: Zhang Tong, PKU National School of Development