Ambassador of China to Mozambique Wang Hejun met with Sibia, Manuel Teodosio Marcos, the 2021 graduate from the Institute of South-South Cooperation and Development (ISSCAD) and awarded him with a doctoral degree on August 3. Political Counselor of the Embassy Ma Yue also attended the meeting.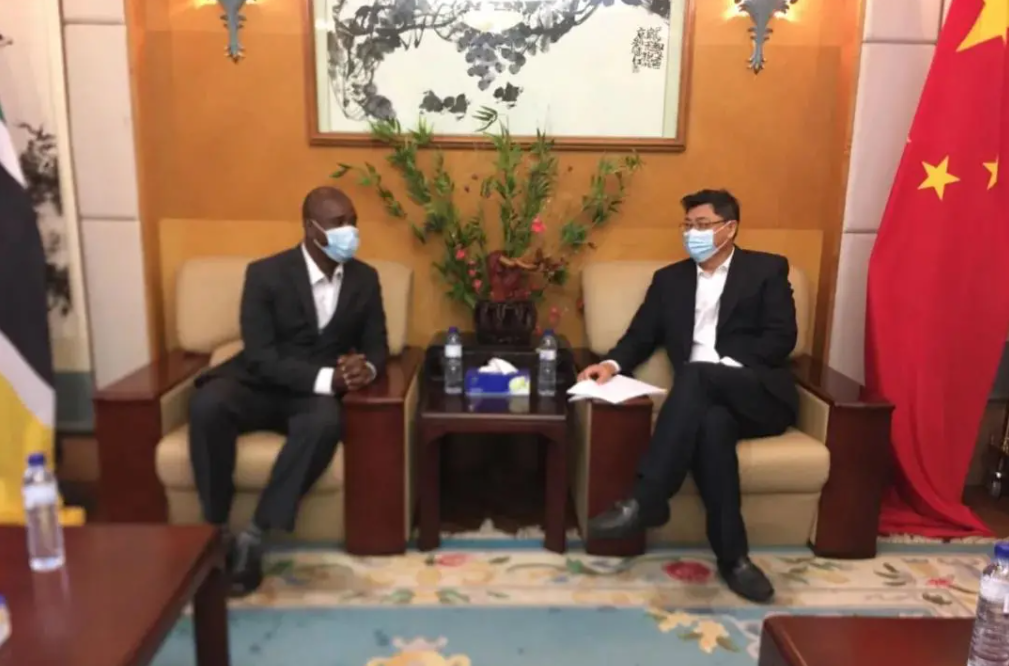 Ambassador Wang had cordial exchanges with Dr. Sibia about his learning and experiences in China as well as his workings in Mozambique. He congratulated Dr. Sibia upon his successful completion of studies at ISSCAD during the pandemic and encouraged him to apply the knowledge acquired at ISSCAD, to further the enhancement of his theoretical and practical learnings, and wished him to become a top expert and leader of the economic and social development of Mozambique. Ambassador Wang also expressed his sincere hope for Dr. Sibia, as the messenger of friendship between China and Mozambique, to help promote in-depth exchanges on governance experience and to make new contributions to the mutual benefit and win-win cooperation between China and other developing countries.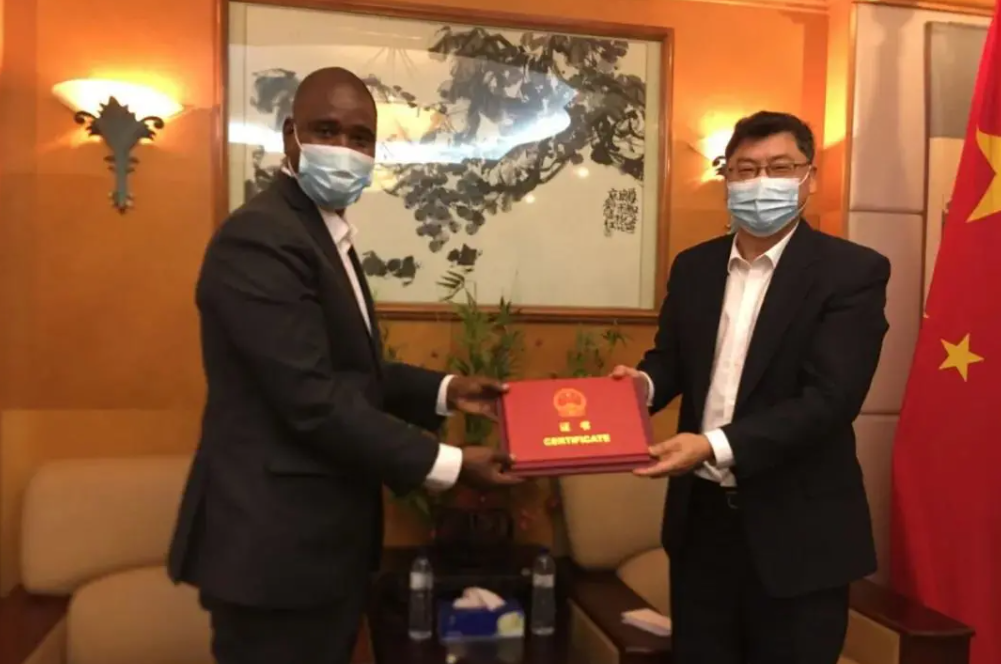 Dr. Sibia expressed appreciation for the meeting and heartfelt encouragement of Ambassador Wang and said that the learning experience in China was of great importance to him and his home country. During his journey at ISSCAD, he witnessed the phenomenal achievements China has made and was deeply impressed by the people-to-people amity and the shared vision between China and other developing countries. The development experience of China has provided developing countries like Mozambique with useful lessons and important references remarkably. In the future, he is determined to apply the theoretical knowledge acquired to make more contributions to the friendly relations and practical cooperation between China and Mozambique.
The establishment of ISSCAD was initiated and announced by Chinese President XI Jinping during the High-Level Roundtable on South-South Cooperation at the 70th Anniversary Celebration of the United Nations in New York on September 26, 2015. Supported by National School of Development (NSD), the Institute has trained high-level talents from over 50 developing countries in the past 5 years, including 3 graduates from Mozambique. Dr. Sibia was enrolled in 2018, majoring in National Development at Peking University. He is the first Mozambique graduate at ISSCAD to receive a doctoral degree and is now an Economics professor in Eduardo Mondlane University.
Ambassador of China to Jordan H.E. Chen Chuandong presented certificates of doctoral degree of Institute of South-South Cooperation and Development (ISSCAD) to graduates Dr. Ahmad Neyaf Alkhraisha and Dr. Raed Abd Al Qader on August 9.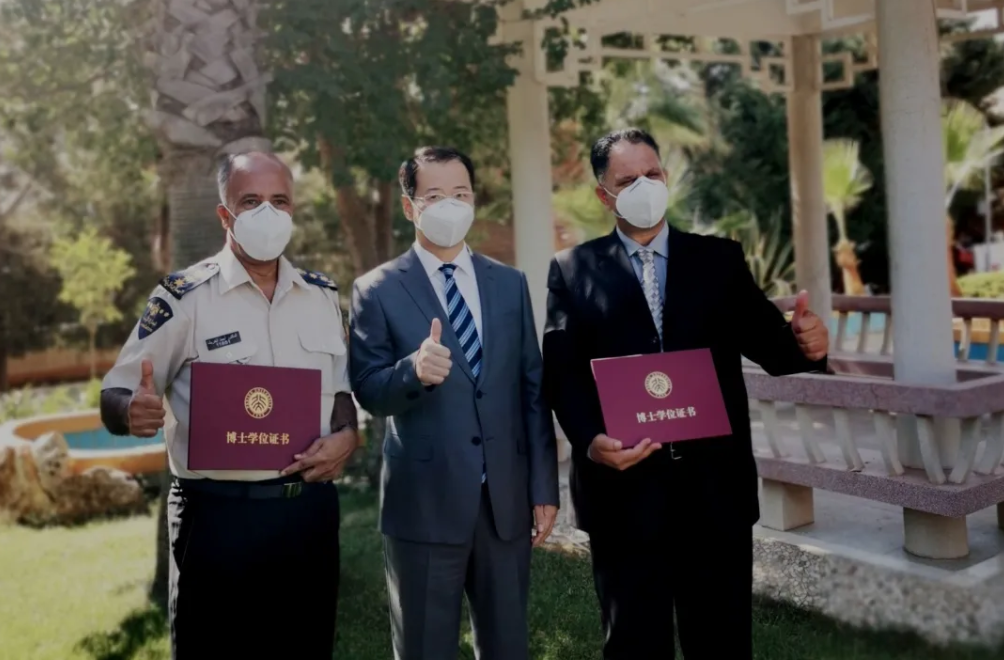 Ambassador Chen congratulated Dr. Alkhraisha and Dr. Al Qader upon their successful completion of studies at ISSCAD. He referred to ISSCAD as an important endeavor of China to promote international development cooperation and to build towards a community of shared future for mankind, as well as a valuable platform of exchanges for developing countries in exploring development paths compatible with their distinctive national conditions. He encouraged the graduates to maximize the benefit of knowledge and experience learned at ISSCAD for development and reform of Jordan, magnify the spirit of mutual learning in South-South cooperation, and multiply the friendship and cooperation between China and Jordan in an extraordinary year of centenary of the founding of the Communist Party of China and centenary of statehood of Jordan.
Dr. Alkhraisha and Dr. Al Qader expressed their sincere gratitude to the Chinese Government and the Chinese people. They said that their valuable learning experience at ISSCAD would be a lifetime memory. During their study in China, through exchanges and discussions with Chinese experts and scholars, and with peers from developing countries, and through visits to different regions of China, they have gained a comprehensive and in-depth understanding of China, witnessed great achievements of China's development and success in fighting the COVID-19 pandemic. They expressed their desire to apply the knowledge and experience gained in China to practical works so as to better serve Jordan's economic and social development and contribute to the friendship and cooperation between Jordan and China.
Dr. Alkhraisha and Dr. Al Qader are officials in the Customs department and Ministry of Agriculture in Jordan respectively. They are the first Jordanian doctor graduates of ISSCAD. Nine Jordanian candidates are currently studying at or have been enrolled in doctoral and master's degrees programs at ISSCAD.
Translation: Liwen FENG
Edit: Olivia LOU