To promote the UN 2030 agenda for sustainable development, and to share China's experience in poverty reduction and alleviation with developing countries, and promote poverty reduction and rural revitalization in developing countries through promoting international cooperation in the field of agriculture under the framework of South-South cooperation, on the afternoon of January 18, 2022, The "Forum on South-South cooperation and Rural Revitalization", jointly sponsored by the Acady for International Business Officials, MOFCOM and the China Association of Township Enterprises, was successfully held in Beijing. More than 400 Chinese and foreign government officials, experts, scholars and entrepreneurs participated in the forum in the form of online and offline.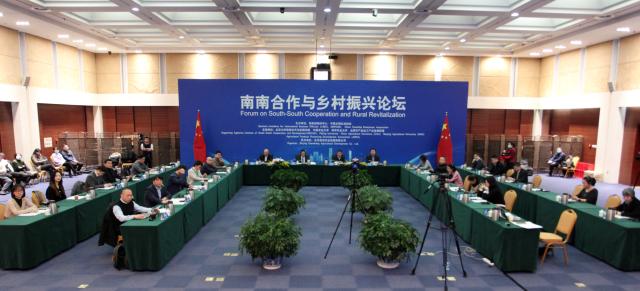 photo credits: AIBO MOFCOM
Mr. Tesfaye Mengsitie Dore, former State Secretary of the Ministry of agriculture of Ethiopia, introduced the policies and opportunities of their respective countries' agricultural development and international cooperation to the Chinese and foreign guests.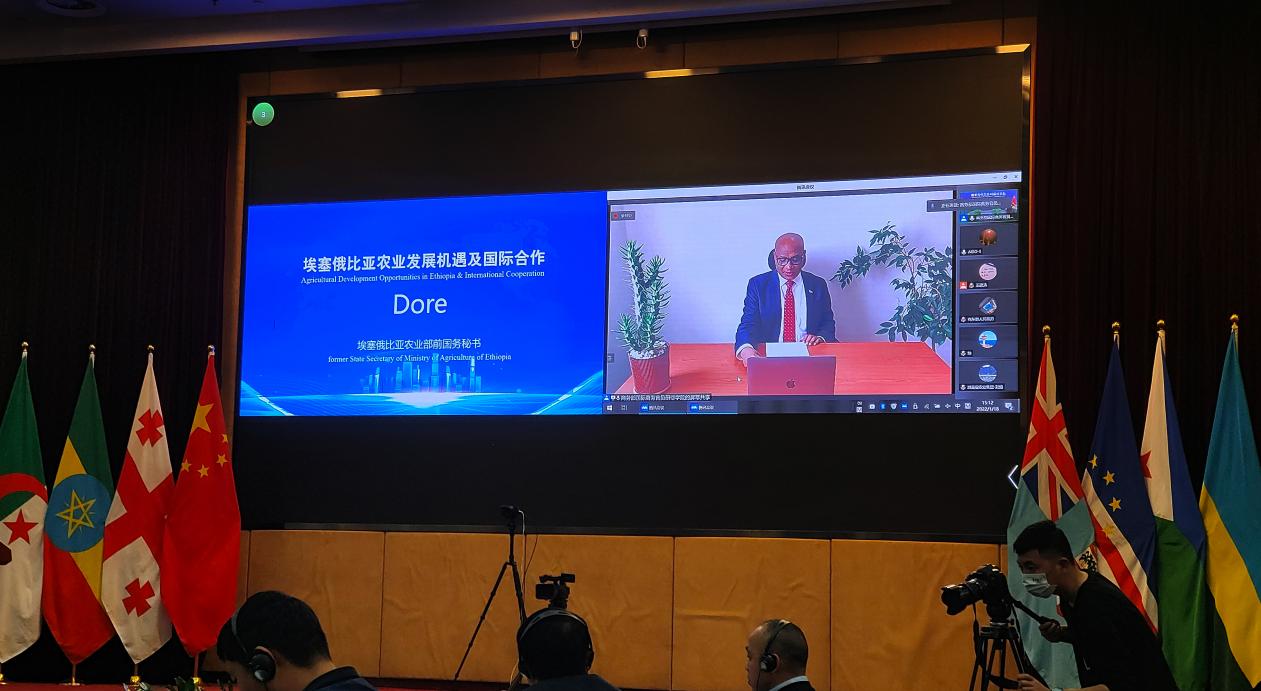 Photo credits: AIBO MOFCOM
Good afternoon!
Mr. Chen Runyun, Vice President of Academy for international Business Officials.
Mr. Cao Guangming, Secretary General of China Township Enterprise Association (former Deputy Head of the inspection team of the Ministry of Agriculture and Rural Affairs).
Mr. Archil Kalandia, Ambassador of Georgia to China
Participants of the Forum
Ladies and gentlemen:
It gives me tremendous pleasure and honor to extend my warm greetings to this August conference, on behalf of myself and the FDR of Ethiopia. I would also like to take this occasion to express how grateful and thankful we are to the Chinese Government for their effort in assisting and supporting the Ethiopian government and the people.
We are also grateful for the previous and recent cordial cooperation under the South-South Cooperation framework, which aims at promoting agricultural growth for the joint benefit of our people. Thank you very much for your contribution.
Your excellency,
Ladies and gentlemen,
I would like to take a few minutes to draw your attention to how significant this day is to all of us. As stated in the Forum's title, "South-South cooperation and Rural Revitalization", is a high-priority agenda item and a major political concern, particularly for the developing countries whose economies are based on agriculture.
As you all are aware, SSC (South–South cooperation) is a term that has historically been used by policymakers and academics to describe the exchange of resources, technology, and knowledge mainly between developing countries. SSC partnership has increasingly proved to be a contribution to successful results through the implementation of a number of flexible and adaptive cooperation modalities. Knowledge exchanges, technology transfers, financing, peer support, and neighborhood initiative, as well as countries generating similar development agendas and finding collective solutions, have all been part of these alliances.
Your excellency,
Ladies and gentlemen,
Please allow me to share with you some of the key outcomes of SSC partnerships that were implemented in my country, Ethiopia. According to a recent case study conducted in Ethiopia, which indicated that the first and the most important outcomes of SSC partnerships were capacity-building (for human resources development), which increased knowledge and skills in the country. For example, a large number of scholarship opportunities in various fields of study were offered to my country at a number of universities. This brings experience-sharing opportunities, as well as short and long-term capacity development in the form of MA and PhD scholarships, to the country. At this momentous occasion, I can testify that Iand my colleagues were among the recipients of the Doctoral Scholarship at Peking University. At this point, I would like to express my gratitude to the Chinese government and Peking University for the scholarship.
According to United Nation (1992), it was described that the fundamental goal of capacity building is to enhance the ability to evaluate and address crucial questions related to policy choices and modes of implementation among development options, with understanding of environment potentials, limits and needs of the people. As a result, capacity building is much more than training and it also encompasses human resource development, which is the process of providing workers with understanding, skills and access to information, knowledge that will allow them to function effectively. The other component is organizational development, which is the elaboration of management structures, processes and procedures, not only within organizations but also the management of relationships between the different organizations and sectors.
On the one hand, as a result of the long-lasting relationship of the two countries (China and Ethiopia), the agricultural sector, in addition to service and industry sectors, has gained the most from the partnerships. Agriculture, as you are well-aware, is the dominant economic activity in the country. Nearly 85% of the population is dependent on agriculture, and agriculture accounts for about 41% of Ethiopia's gross domestic product (GDP) and 90% of its export earnings. So that, it's no surprise that any collaboration that can lead to advances in agricultural production and productivity is given top priority. As a result, with the very good collaboration with Chinese government, the Chinese government has offered their fruitful and timely support to agriculture sector in the area of capacity building (such as short- and long-term training), technology demonstration, assigning experts for the purpose of experience sharing and facilitating and capacitating Agricultural Technical and Vocational Education and Training (TVET) institutions.
Your excellency,
Ladies and gentlemen,
The partnership between the two countries is not only in a single specific sector, but it is a multifaceted in nature. So that access to better infrastructure is another important outcome of the partnership in the area of roads, railway, industry park development, and hydro-power transmission to meet the country's growing energy demand, which are among the significant collaboration performance that can be seen in the country.
The Ethio-China trade exchange has expanded rapidly. Ethiopia's exports to china have increased substantially. Coffee, sesame, Green mung bean, beans and leather are among the most important export items. This export opportunity provided the country with new opportunities to boost agricultural production and productivity in terms of quality and volume in order to meet export standards and needs.
In this regard, we can state that projects through SSC partnerships not only brought economic development to Ethiopia, but also improved skills transfer from other SSC countries to Ethiopian citizens and strengthened various personal and diplomatic relationships between support provider and support receiver countries.
Your excellency,
Ladies and gentlemen,
The economic ties between China and Ethiopia are strengthening all the time, with increased trade and investment volumes. The relationship has reached a greater level over the last two decades. Currently, the bilateral relations are multifaceted benefiting both sides. Many Chinese companies are engaged in several development projects in Ethiopia. The socio-cultural relationship of the two countries is also another aspect of these bilateral relations. As a result, Ethiopia is now eligible to participate in Chinese projects in Africa, including the Belt and Road Initiative. Ethiopia and China have already built solid win-win circumstances based on their long-standing relationship.
Your excellency,
Ladies and gentlemen,
I know and I believe that Covid Pandemic has a significant impact on individual country's economy and its collaborative performance result. But what we should recognize is that even during the peak of the pandemic, the two countries collaboration did not halt, but rather persisted with a great passion and enthusiastic in addressing issues including supplying medical equipment, medicine and also technical expertise.
In my concluding remarks, as it is clearly indicated in the objectives of the Forum, South-South Cooperation partnership must be strengthened or revitalized for the purpose of poverty eradication and sustainable development for the developing countries, based on the previous modality. For this purpose, my advice for the developing countries is that to follow and adapt the Chinese principles: Firstly, imitate, copy and adaption of technologies with the context of the country. Secondly, we shall apply learning by doing principle.
Finally, on behalf of myself and my country, I would like to extend my heartfelt appreciation for the continuous support and strong bilateral relationship for the achievement of our short- and long-term strategic goal of the country.
Thank you very much for your attention!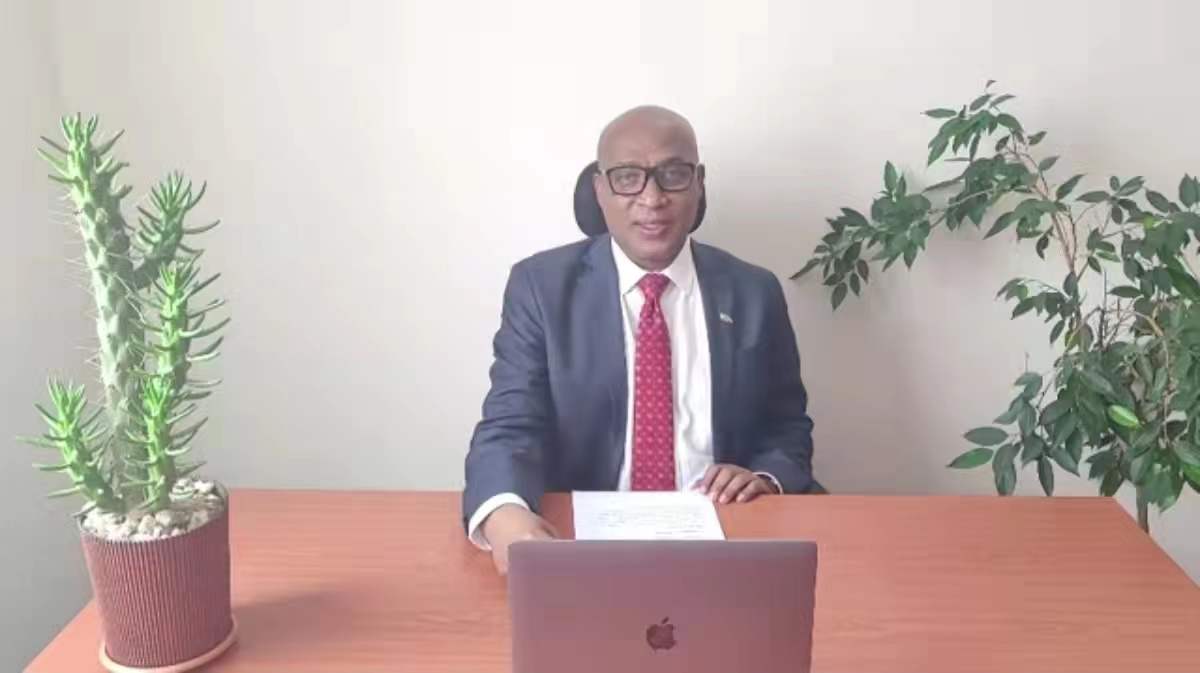 Tesfaye Mengsitie Dore, Former Secretary of State, Ministry of Agriculture, Ethiopia