On September 6, 2021, the opening ceremony of the Institute of South-South Cooperation and Development of Peking University (ISSCAD) took place on the new campus of Chengze Garden. Prof. Justin Yifu LIN, Dean of ISSCAD, Prof. YAO Yang, Executive Dean of ISSCAD, Prof. FU Jun, Academic Dean of ISSCAD, and Mr. CHEN Runyun, Vice President of Academy of International Business Officials (AIBO), Ministry of Commerce were invited to deliver speeches on the ceremony.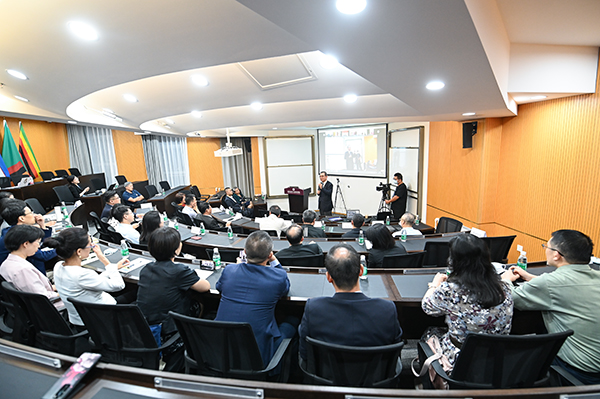 The idea that China establishes the Institute of South-South Cooperation and Development was initiated and announced by Chinese President XI Jinping during the High-Level Roundtable on South-South Cooperation at the 70th Anniversary Celebration of the United Nations in New York on September 26, 2015. With strong support from several Chinese ministries especially the Ministry of Commerce, and by virtue of Peking University's strength in humanities and social sciences, the Institute of South-South Cooperation and Development (ISSCAD) was officially established at the National School of Development of Peking University (NSD) on April 29, 2016. Since 2018, the newly established China International Development Cooperation Agency of the State Council has been giving great guidance and support to ISSCAD, together with the Ministry of Commerce.
ISSCAD is a national project of China to participate in South-South cooperation. Combining local knowledge with global vision, the Institute is committed to excellence in national development research, talent training for developing countries, and dynamic exchange platform for global cooperation, and is devoted to promoting the construction of a community with a shared future for mankind by sharing knowledge and experience on matters of public leadership and national development, with developing countries and especially the least developed countries.
ISSCAD has recruited nearly 300 students from 67 developing countries since its establishment in 2016.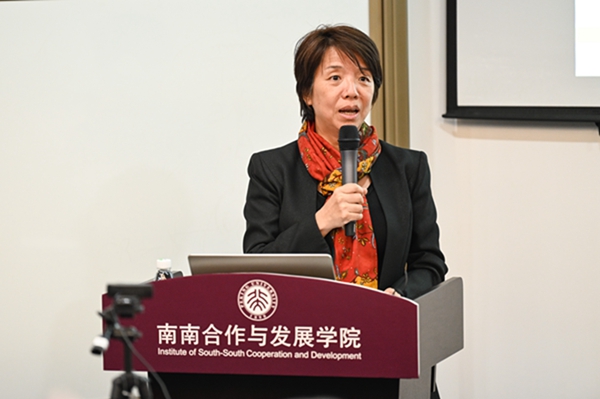 Prof. ZHOU Yongmei, Director of Global Partnership of ISSCAD, chaired the ceremony
Remarks
Prof. YAO Yang, Executive Dean of ISSCAD, first delivered a speech and expressed warm welcome and congratulations to the new students. He said that this is the first year for ISSCAD to move into the new campus in Chengze Garden, and it's very lucky of the students to become the first cohort to study here. Chengze garden, a royal garden built during the Qing Dynasty , is as old as Langrun Garden, or even older. After years of careful repair and construction, Chengze Garden now integrates classical and modern styles and will provide the most comfortable environment and the most advanced and complete facilities and services for students' study and after-school life.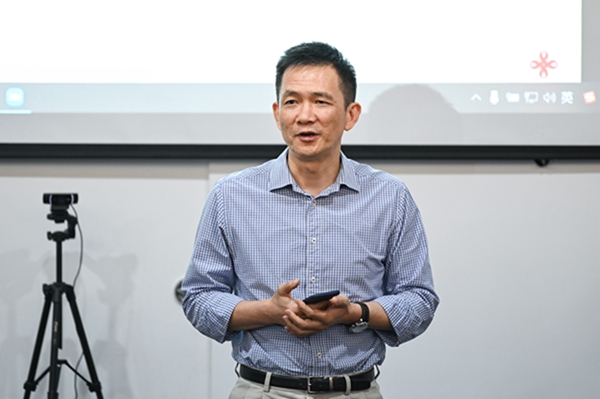 Prof. YAO Yang believes that there are four main advantages for students to learn the theory and experience of national development in ISSCAD. First, there is a top faculty team in ISSCAD. All teachers have studied in western developed countries, have rich practical experience in China, and pay great attention to the combination of theory and China's reality. Second, China is still a developing country with both developed and relatively backward regions. By learning from China's development experience, students can observe the different stages of economic development in real time. Third, students of ISSCAD have abundant experience working in the government for the development of their home countries. Learning here will be the best opportunity for students to reflect on the success or failure of their work in the past and gain new insights and new ideas. Fourth, through exchanges and discussions with students and alumni from other developing countries, they will certainly spark wisdom and continuously get inspired. He believes that after three years of study, students of ISSCAD will gain not only knowledge, but also friendship and new heights in life.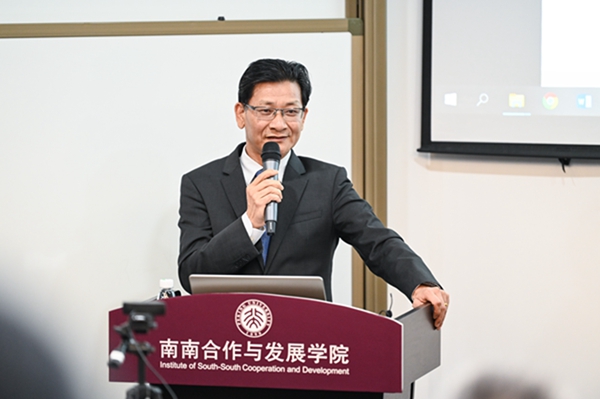 On behalf of the Ministry of Commerce of China and the Academy of International Business Officials (AIBO), Mr. CHEN Runyun,Vice President of AIBO, extended sincere thanks and greetings to the 2021 new students and their governments and institutions that support them. He said that development is the eternal theme of human society. The students are all senior officials and elites of their home countries. In order to learn the experience of economic and social development and promote the development of their motherland, they have overcome various difficulties and come to ISSCAD, therefore deserve the highest respect. He also said that our world today is full of opportunities and challenges. As the world's largest developing country and a responsible nation, China has always been committed to carrying out exchanges and cooperation with developing countries in various fields, sharing development experience, jointly coping with crises and challenges and achieving the goal of sustainable development together. Under the initiative of Chinese President Xi Jinping, ISSCAD has been established as a top talent training base as well as research and exchange platform for developing countries."As long as you have a responsible mind, you will keep forging ahead."With this sentence, Vice President Chen encouraged the students to cherish this precious learning opportunity at ISSCAD, to apply what they have learned to their work after graduation, to better serve the economic and social development of their home countries and to make contributions to world peace and development together with China.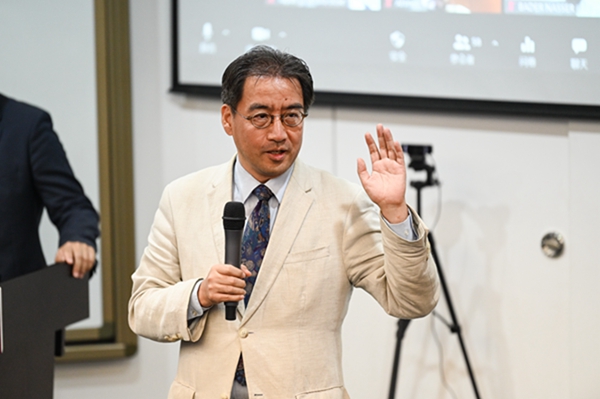 Prof. FU Jun, Academic Dean of ISSCAD, expressed his most sincere welcome to the new students in English, French and Chinese. He emphasized that in order to make the students gain the most, the curriculum design of ISSCAD is very rigorous and attentive, therefore the schoolwork will not be easy. He hopes that the students would do their best and make full preparations to overcome the coming challenges. By quoting Shakespeare's words in Hamlet, "What a piece of work is a man! How noble in reason! How infinite in faculties! in form and moving how express and admirable! In action how like an angel! In apprehension how like a god!", he told the students that ISSCAD will cultivate and improve their intellectual wisdom and practical wisdom, so that they can change the world in a positive way after graduation, which is also the core of leadership.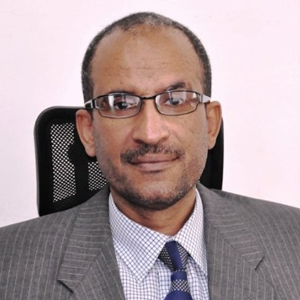 Speaking on behalf of the 2021 freshmen is the doctoral student Teka Entehabu, the State Minister of the Ministry of Trade and Industry of Ethiopia. He first appreciated the Chinese government, Peking University and ISSCAD for providing the generous support and valuable opportunities for talents from developing countries to learn advanced development experience in China. He said that China and Africa have had close friendship since ancient times, began with direct contacts by sea route as early as in the 7th century. Ethiopia and China are especially time-tested good friends and partners. Ethiopia is an important country participating in the "Belt and Road" initiative and China-Africa Capacity Cooperation, and has in-depth economic and social cooperation with China. He concluded that the students start their new year in ISSCAD with hopes and dreams and will do their best to learn more, see more and think more to apply what they have learned to further practice back to their home countries.
Keynote Speech by Prof. Justin Yifu Lin
Prof. Justin Yifu Lin, Dean of ISSCAD, delivered a keynote speech entitled "China's New Development Paradigm and Its Implication for the World". He said that the students have been working hard for their country's economic and social development, and today's opening ceremony is a new starting point for their tireless exploration of theories and experiences more suitable for their countries' development path. Taking this opportunity, he shared his interpretation of China's new development pattern of "dual circulation" and his outlook for China's future development.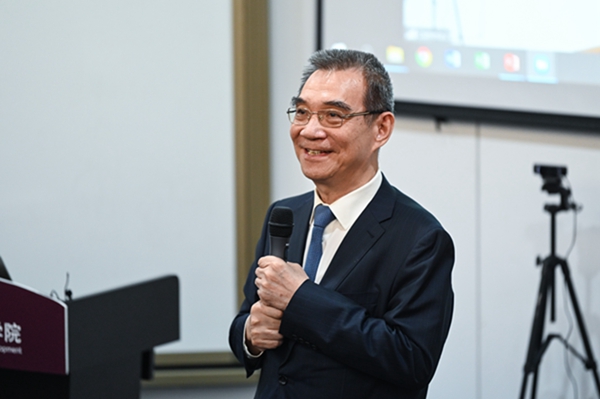 He pointed out that a "dual circulation" development pattern in which domestic economic circulation plays a leading role while international economic circulation remains its extension and supplement is an important national development orientation put forward by the Chinese government. China is now the world's largest trading country, and the change of China's development pattern will affect not only itself, but also the world. Although the proposal of the new development pattern policy has short-term causes such as COVID-19's impact on international trade and Sino-US trade friction, it is more deeply rooted in the basic rules of economic development, and is an inevitable choice after the increase of China's economic volume and the continuously growing proportion of service industry. The clarification from China that the economy is dominated by the domestic circulation is conducive to China's own recognition of the reality and law of development and enhance our confidence. As long as the domestic economy is stabilized, the changes of international situation will basically not affect our overall development pattern.
Meanwhile, he pointed out that the mutual reinforcement of the dual circulation indicates that China will continue to deepen reform and expand opening-up, because China's development and stability are beneficial to the stability of international landscape, the development of globalization and the sustainable development of global economy and trade. For South-South countries, China's development experience and prospects have also built confidence and set an example for them.
Prof. Justin Yifu Lin particularly stressed that all the participants are the elites of their home countries and shoulder the important task of enriching the country and strengthening the people. In the past, many people believed that in order to promote national economic development, one must learn the development pattern of western developed countries, but facts have proved that no developing country could be successful by copying the theories and patterns of developed countries. "Mind decides the way", and the mind originates from the cognition of the essence of practical facts and problems. As the first innovation of economic theory system proposed by a developing country, New Structural Economics is developed on the foundation of practical problems of developing countries. The development and prosperity of a country is realized through industrial upgrading and technological innovation. It is achieved, however, by choosing industries and technologies according to the comparative advantages determined by factor endowment at each time point. This is the best way to develop economy.
He believed that through the study in ISSCAD and the exchange and discussion with other students from developing countries, every student will be able to help their country find a suitable path of development.
Finally, Prof. Justin Yifu Lin answered questions from online and offline students. The opening ceremony was successfully concluded after a group photo.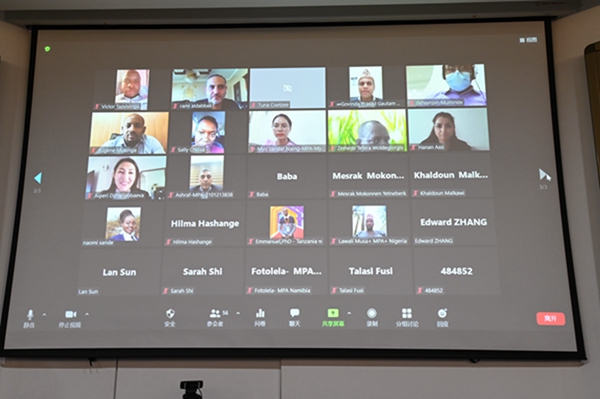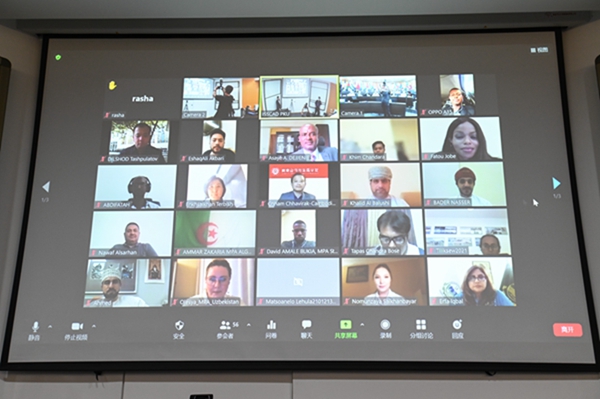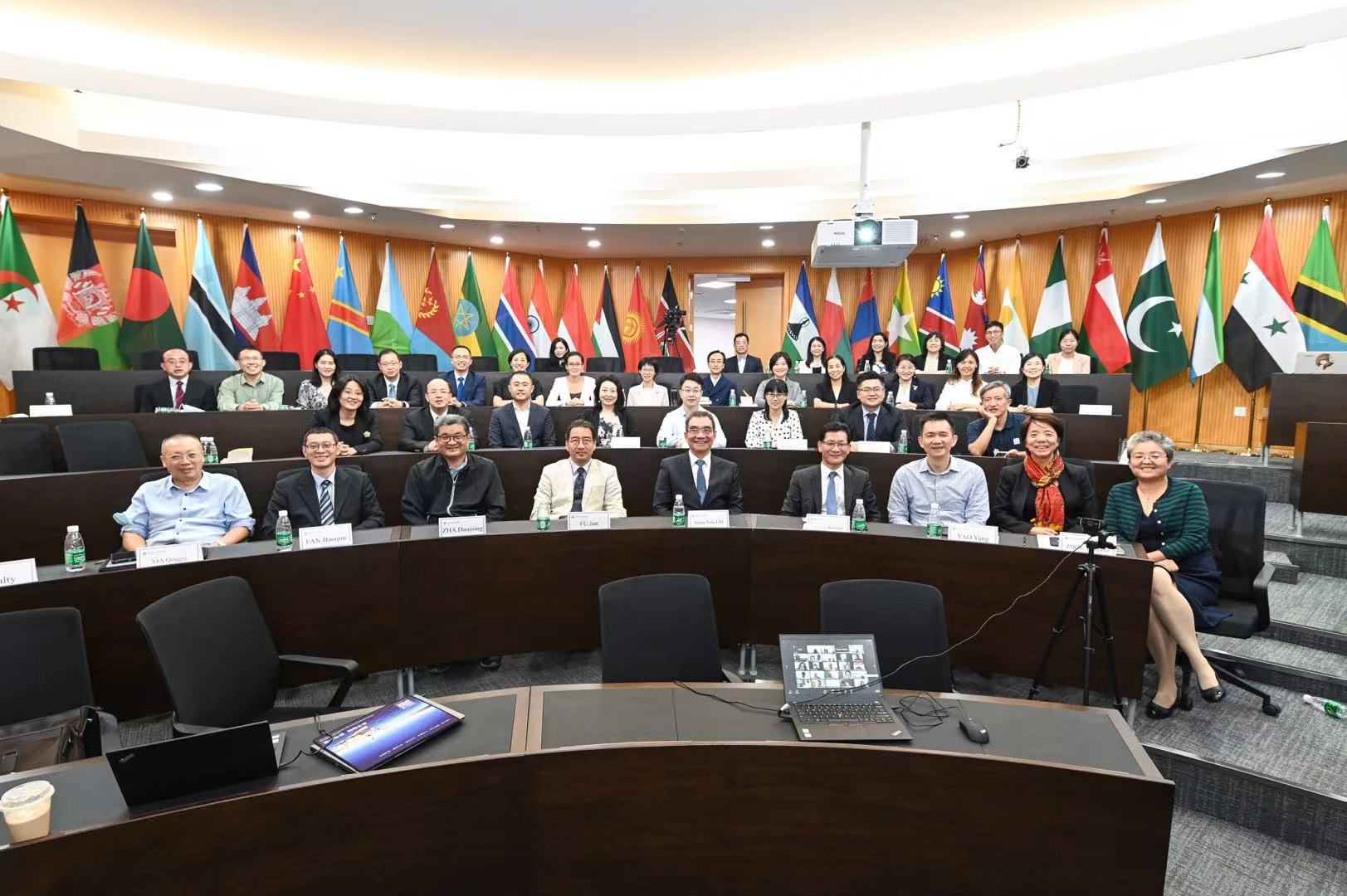 (Bai Yao | Feng Liwen)
Editor: Olivia LOU