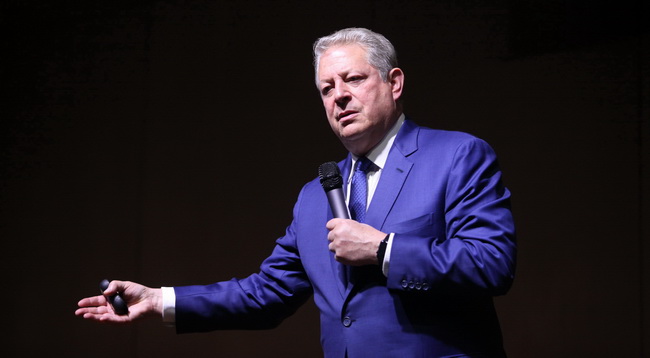 On June 13, 2016, Former Vice President of the United States Al Gore delivered a speech entitled "The Reality of the Climate Crisis and its Solutions" at Peking University Public Policy Forum International. Professor FU Jun, the Forum Director and Academic Dean of the Institute of South-South Cooperation and Development at Peking University, commenced the event with a brief welcoming speech. Al Gore began by thanking LI Yansong, Vice President of Peking University, WANG Shi, Founder and Chairman of China Vanke and Co-Founder of the Society of Entrepreneurs and Ecology, and Professor FU Jun for the opportunity to share his ideas with Chinese audience at Peking University. His speech evolved around three questions: 1) Must we change; 2) Can we change; and 3) Will we change?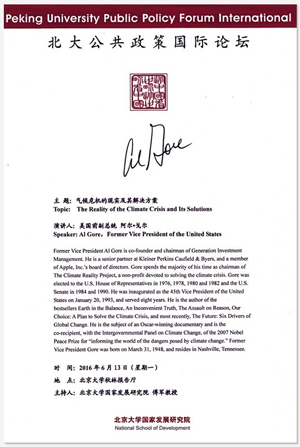 Must We Change?
Mr. Gore said, scientific research has shown convincingly that the use of fossil fuels, which has been increasing rapidly in recent decades, is the primary cause of global warming, and that the trend, if not stopped, will have serious consequences for our planet, our health, and our life. There is a growing consensus in the global community that: "Mankind is at a turning point, and the need for urgent action is indisputable." "We have to change!" He urged passionately.
Can We Change?
Passion aside, Mr. Gore reminded the audience that "If we have to change, but we don't have the ability, that's just a recipe for stress. But, luckily, we have solutions at hand." Among other new technologies, he reviewed the history of the development of wind power for instance. He pointed out that wind power, a non-fossil renewable energy, has been growing at a rate faster and at a cost lower than all previous predictions. In particular, he noted that China is leading the world in the development of wind power.
Will We Change?
Mr. Gore demonstrated that changes are already on the way. He cited a range of examples from Denmark, Germany to China, where energy structures are being shifted from fossil fuels to renewable resources such as solar and wind power. He pointed out that "The cost of batteries is now declining rapidly. This is an energy transformation: low carbon energy with storage; solar plus battery is a particularly promising formula for the future." He concluded by citing Wallace Stevens – "After the final 'no' there comes a 'yes' and on that 'yes' the future would depends."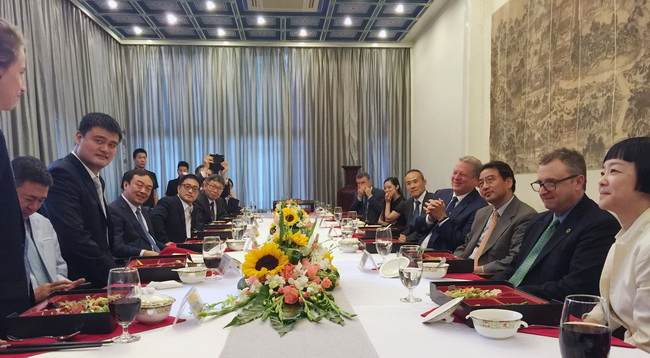 After the speaking event, Professor FU Jun hosted a working lunch for Mr. Al Gore at the Langrun Garden of the National School of Development at Peking University (NSD). Professor XU Jintao, an environmental economist and Associate Dean of NSD, exchanged views with visitors, Chinese business leaders, and social entrepreneurs. Mr. Gore emphasized the importance of the leading role of both the United States and China in the global fight against climate change. Professor FU Jun told visitors that in developing curricula for the newly established Institute of South-South Cooperation and Development at Peking University, "We take growth seriously, we also take green seriously."