The Eco Forum Global (EFG) Annual Conference was held in Guiyang from July 8-10, 2016. On the morning of July 10, the Institute of South-South Cooperation and Development at Peking University (ISSCAD) sponsored a parallel conference on "South-South Cooperation and Climate Strategy" in collaboration with the Climate Change Department of the National Development and Reform Commission (NDRC). It was the first high-profile international conference that ISSCAD organized since it was officially established in April 2016.
Chaired by Prof. FU Jun, Academic Dean of ISSCAD, the conference of "South-South Cooperation and Climate Strategy" had two sequential sessions. The first one featured speeches by prominent speakers from both home and abroad; the second one was a panel discussion, which also doubled as an executive training program for 45 government officials from 23 developing countries, sponsored by NDRC.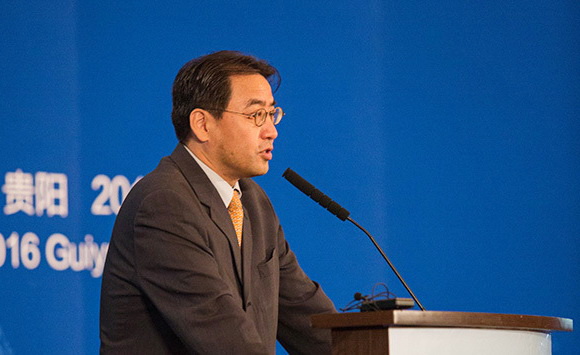 Prof. FU Jun
Reflecting diverse perspectives on the subject of "South-South Cooperation and Climate Strategy", speakers during the first session included XIE Zhenhua, China's Special Envoy on Climate Change; LIN Yifu, Professor and Dean of ISSCAD, Naoko Ishii, Chairperson of the Global Environment Fund; Anyaa Vohiri, Executive Director of the Environmental Protection Agency of Liberia; and Seyoum Mesfin, Ethiopian Ambassador to China.
Mr. XIE Zhenhua, who is also Vice Chairman of the Chinese People's Political Consultative Conference's National Committee on Population, Resources, and Environment, said that China is playing an active leading role in the global efforts against climate change, and is a longtime advocate of South-South cooperation and has been stepping up efforts in recent years. For instance, since 2011, addition to foreign aids, the Chinese government has allocated 720 million RMB to help African, the least developed, and island countries to cope with climate change.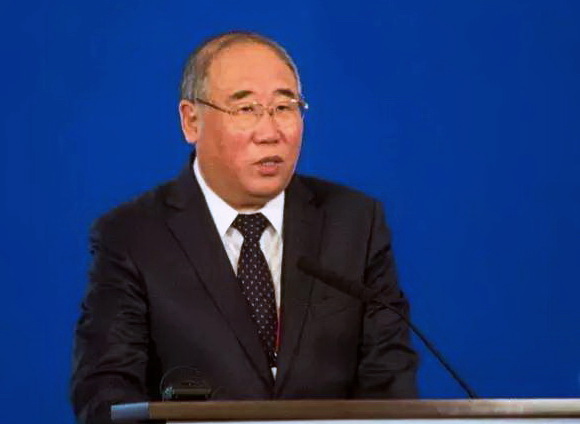 Mr. XIE Zhenhua
Prof. LIN Yifu, who previously served as Chief Economist and Senior Vice President of the World Bank, spoke about the deficiency of mechanically copying theories and experiences of advanced economies in promoting growth in developing countries. Successful strategies or policies of national development had to fit local conditions under different stages of development, he emphasized. He argued that as China is closer to many African and other developing countries in terms of stage of development, the Chinese experience is more relevant, and there is more to learn from each other. According to him, as China now upgrades its labor-intensive industries, it would provide a golden opportunity for many low-income countries to grow their economies through initial stage of industrialization from agriculture. He also urged advanced economies to speed up transfers of technology -- green technology in particular -- and provide more funds to developing countries in their efforts to achieve poverty reduction and green growth.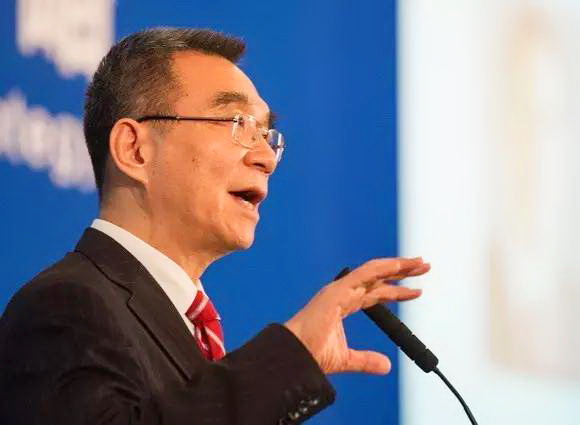 Prof. LIN Yifu
Dr. Naoko Ishii emphasized the importance of building international platforms to facilitate the exchange of knowledge, experience, expertise, best practices, and wisdom among developing countries in their fights against climate change. She was echoed by Ms. Anyaa Vohiri, who urged developing countries to work closer together with better policy coordination on the ground to deal with the multiple challenges of financial crises, food security, and climate change. Ambassador Seyoum Mesfin, on his part, shared with the audience what Ethiopia had done in trying to achieve the twin tasks of fast economic growth and greenhouse gas reduction.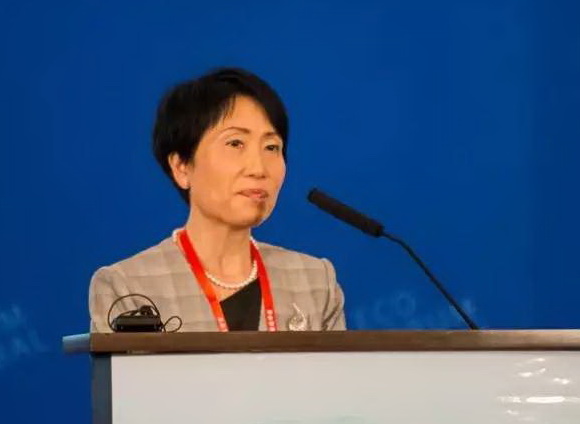 Dr. Naoko Ishii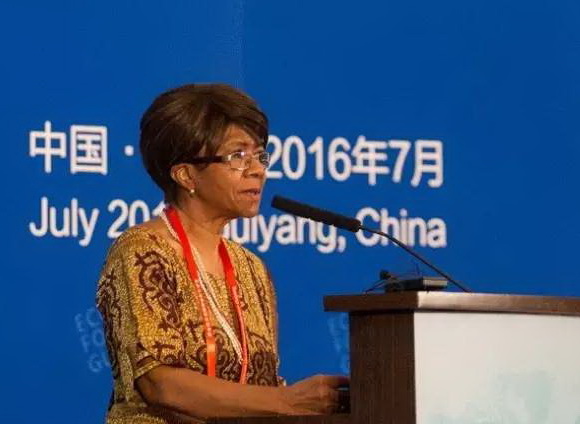 Ms. Anyaa Vohiri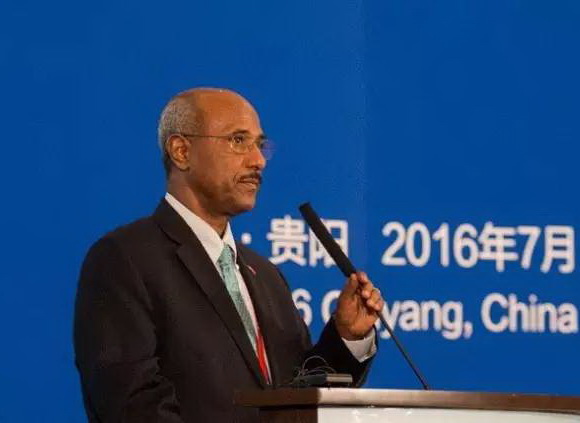 Mr. Seyoum Mesfin
Sitting on the panel during the second session of the conference were Bruno Oberle, Director of the Swiss Federal Office for the Environment; Naoko Ishii, Chairperson of the Global Environment Fund; XU Jintao, Professor and Associate Dean of the National School of Development at Peking University; LI Junfeng, Director General of National Climate Change Strategy Research and International Cooperation Center; ZHANG Xiaohua, Senior Policy Advisor of Climate Change and South-South Cooperation to the Executive Office of the UN, and MEI Dewen, President of Beijing Environment Exchange.
In a fashion that was highly interactive both among the panelists and with the audience, including 45 government officials from 23 developing counties, the panelists exchanged views and shared expertise on a wide range of topics including green finance, technological innovation, human capital, carbon trade, carbon taxes, international cooperation, and best practices in policy coordination for green development, as well as the role of education and institutional innovation as drivers of growth.
Prof. FU Jun, who previously served as Advisor to the Chairman of the Executive Council of UNESCO, concluded the half-day conference by noting that as a rising economic power China is transforming its role as a supporter of South-South cooperation to that of an active initiator or leader. He said that the way that ISSCAD leveraged intellectual resources -- both domestic and international -- to put the conference together reflected the educational philosophy of the newly established ISSCAD, i.e, interactive, inter-disciplinary, and inclusive, and with global vision and local knowledge, so to speak, and that the conference was only a precursor of what would follow in the future. He hoped that ISSCAD would serve as an effective platform for developing countries to share knowledge and experiences, and exchange views on matters of national development, climate strategy, and common prosperity. He thanked everyone who had worked so hard to make the conference a success.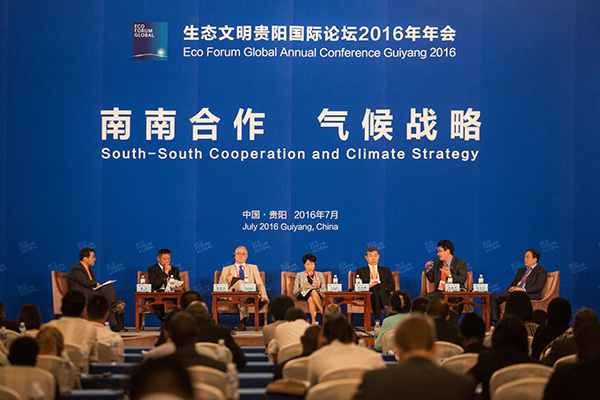 FU Jun, MEI Dewen, Mr. Bruno Oberle, Naoko Ishii, LI Junfeng, ZHANG Xiaohua, and XU Jintao
Eco Forum Global
Approved by the Chinese central government and founded in 2009, the Eco Forum Global is a premiere and high-profile Chinese international forum dedicated to promote the sharing of knowledge and experience in the implementation of policies regarding green economic transformation and ecological security. The permanent venue of its annual conference is in the city of Guiyang, Guizhou Province, China.